Home » Categories » CHARTrunner
CR: Label your X-Axis with more than one identifier
Article Number: 537 | Rating: Unrated | Last Updated: Tue, Oct 6, 2009 at 10:19 AM
Revision Date: 2009-01-29
Problem:
I spoke with a customer the other day who wanted multiple labels along the x-axis of his control chart. His data set and original chart looked like this: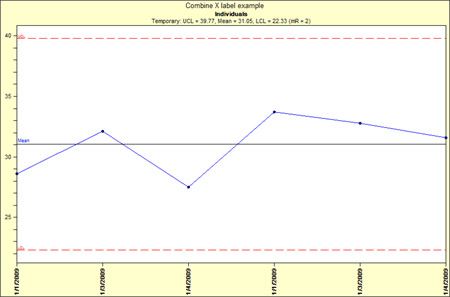 Notice how the x-axis labels contain ONLY the date column? He also wanted the Batch number as part of the x-axis label. In the chart definition form, you can select only a single identifier as the label as shown below: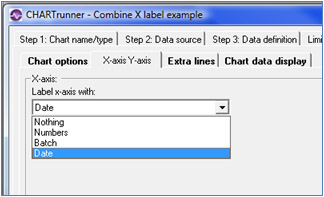 Solution:
At first I did not think we had a solution. However, the answer lies on the data definition tab. The customer had defined the chart to look directly at the data table as shown below: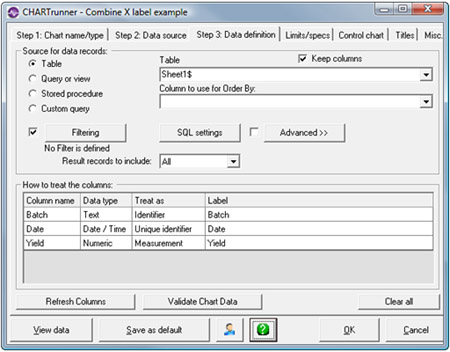 This works well for most chart definitions. However, if you are willing to get your hands dirty with a little custom query work then you too can solve this problem! C'mon... give it a try it is not as painful as you think. Here is the SQL custom query that solved the problem:
Select [Date] & " - " & [Batch] as DateAndBatch, * from [Sheet1$]
Using the custom query gives you a derived column named DateAndBatch. Now, you can setup the data definition form like this: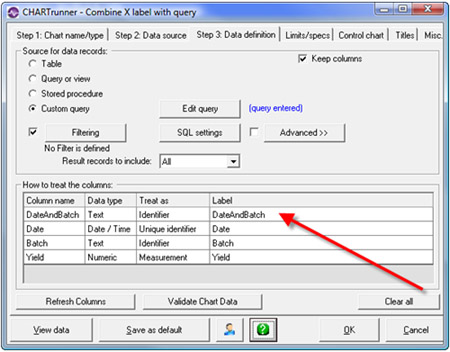 This allows you to select DateAndBatch as an x-axis label on the control chart tab. The result is a chart like this: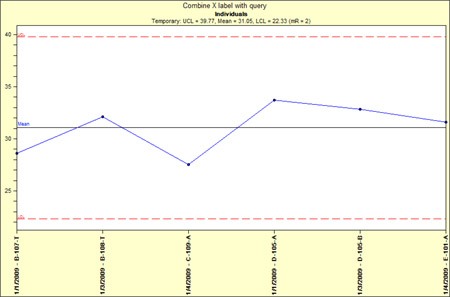 Attachments
There are no attachments for this article.
Related Articles